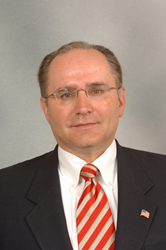 White Plains, NY (PRWEB) December 09, 2014
Elder law attorney Anthony J. Enea, managing partner at Enea, Scanlan & Sirignano, LLP in White Plains and Somers, N.Y., recently addressed the critical importance of long-term planning for seniors at an evening program for the Estate Planning Council of New York City. Enea, past chair of the New York State Bar Associations Elder Law Section, advises seniors to take a proactive role in planning for their future.
The program, Asset Protection for Seniors and their Families, marked the latest speaking engagement for Anthony Enea, who has spent nearly three decades protecting the rights of seniors, the disabled and their families. Named Westchester Countys Leading Elder Care Attorney at the Above the Bar Awards, Mr. Eneas practice areas include elder law; Medicaid planning and applications; special needs planning; wills, trusts and estates; guardianships and estate litigation.
I have found the vast majority of seniors are unprepared when it comes to their long-term care, said Enea. While most seniors have executed a last will and testament or a revocable living trust, the majority havent taken any steps to protect their life savings from the significant costs of future care either at home or in a nursing home. Even healthy seniors should prepare themselves for a possible transition.
In Westchester County, the average private cost of 24/7 care at home is $ 7,000 to $ 10,000 per month. This is significantly less expensive than the cost of a nursing home, which is typically $ 385.00 to $ 425.00 per day ($ 140,525 to $ 155,125 per year). While future figures remain uncertain, costs have consistently increased annually at double-digit percentages in past years.
Two documents of great importance to seniors as they age are the Durable General Power of Attorney and Health Care Proxy, he noted. Even if one or both of these have been executed, they are oftentimes not sufficiently broad to allow the agent to engage in long-term care planning if the senior is cognitively impaired. The execution by the senior of a sufficiently broad POA and a HCP will alleviate significant potential problems for both the senior and his or her family.
Enea continued, There are also a number of specific options available to seniors wishing to protect their assets from the cost of long-term care. Purchasing long-term care insurance can help finance the cost of in-home or nursing home care. Utilizing a Medicaid Asset Protection Trust is another way to protect ones home and savings.
Comprised of approximately 300 members, the Estate Planning Council of New York City is an interdisciplinary organization for professionals involved in estate planning. Since its inception in 1959, the Council's primary objective has been to provide a better understanding of the services performed by attorneys, life underwriters, trust officers, accountants, and others substantially involved in estate planning and to promote cooperation among them.
Mr. Enea is president of the Westchester County Bar Foundation and a former president of the Westchester County Bar Association. He was named Best Lawyers 2015 Trusts and Estates Lawyer of the Year in White Plains, a Top 25 Super Lawyer in Westchester County, and received the 2014 Golden Harvest Corporate Award from the Westchester Public/Private Partnership for Aging Services for outstanding and lasting contributions to Westchester seniors.
Enea, Scanlan & Sirignano, LLP is located at 245 Main Street in White Plains, N.Y. with additional offices in Somers, N.Y. Elder law attorney Anthony J. Enea can be reached at 914-948-1500 or a(dot)enea(at)esslawfirm(dot)com. For the latest news, visit Enea, Scanlan & Sirignano online at http://www.esslawfirm.com or the firms blog, westchesterelderlawblog.wordpress.com.
About Enea, Scanlan & Sirignano, LLP

Enea, Scanlan & Sirignano, LLP is an AV preeminent rated elder law firm with offices in White Plains and Somers, N.Y. The practice concentrates on Elder Law; Medicaid Planning; Nursing Home and Home Care Applications; Wills, Trusts and Estates; Guardianships; Estate Litigation; Supplemental Needs Trusts; and Special Needs Planning. Enea, Scanlan & Sirignano, LLP serves Westchester, Rockland, Putnam, the Bronx, Manhattan, Long Island and Queens and is committed to providing the highest quality legal services to seniors, the disabled and their families. Visit the firm online at http://www.esslawfirm.com and http://www.westchesterseniors.com.