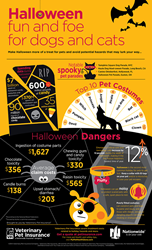 Brea, California (PRWEB) October 15, 2014
During the Halloween season, U.S. consumers spend $ 7 billion on Halloween candy, costumes and decorations, exposing pets to more toxins and hazards than any other time of the year. To help prepare for the imminent dangers that surround our pets during the scare season, Veterinary Pet Insurance Co. (VPI), the nations first and largest provider of pet health insurance, has released its Top Halloween Pet Dangers and Safety Tips.
Toxic Dangers

During the Halloween season, emergency calls to the Pet Poison Helpline increase 12% making October its busiest time of the year. VPI recently sorted through its database of more than 500,000 insured pets to determine the most common ingestion related claims in the month of October. Following are the top Halloween related claims and their average cost for treatment:
Ingestion of Costume Parts = $ 1,627

Raisin Toxicity = $ 565

Chocolate Toxicity = $ 356

Chewing Gum and Candy (Containing Xylitol) Toxicity = $ 330

Upset Stomach / Diarrhea = $ 203
If a pet consumes a toxic treat or a foreign body, he or she should be taken to a veterinary hospital immediately. In preparation, pet lovers should locate the nearest 24-hour emergency animal hospital prior to the night of Halloween or any other major event.
Running Away